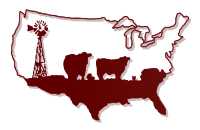 Terms of Use
You must review and approve the following terms in order to participate in the auction. Read the following carefully and signify your acceptance by pressing the "I agree" button below. If you do not accept, access will not be permitted to the Bidder's Screen and you will not be able to participate in this auction.
DISCLAIMER
Producers Cattle Auction, and its linked and related online auction components are not responsible for any offers to buy or counter offers to sell that are not received by the online auction services due to technical conditions.
Producers Cattle Auction does not warrant that the operations of this auction service will be uninterrupted or error free.  Producers Cattle Auction sales are supported on a wide array of devices, including tablets and Smart Phones.  Producers Cattle Auction does not warrant the performance of the software over these devices due to the unreliability of networks and Internet connections.  Under no circumstances, including gross negligence, shall Producers Cattle Auction be liable for any incidental, special or consequential damages that result from the use or inability to use the service or result from mistakes, omissions, interruptions, deletions, errors, defects, delays in operations or transmission or any failure of performance of the Internet or the software or hardware system employed by this service, whether or not caused by events beyond the control of Producers Cattle Auction.  Applicable law may not allow this limitation or exclusion.  In no event shall Producers Cattle Auction's total liability to you for all damages, losses and causes of action exceed the amount paid to Producers Cattle Auction, if any, that is related to the cause of action.
Users agree to indemnify and hold Producers Cattle Auction harmless from and against any loss, cost, damage or expense arising from claims made by any third party, whether for breach of contract, tortuous behavior, negligence or any other cause of action experienced through the use of this facility.
By using the service, the User agrees to be bound by the Auction Rules and Procedures.  Users must be of legal age with the ability to enter into binding contracts.  Producers Cattle Auction reserves the right to alter posted quantities, closing times, or to remove from sale or re-offer for sale items which are disputed, withdrawn by the vendor or fail to draw bids above the minimum.  All bids are non-cancelable.  Unless specifically stated otherwise, all items are sold per contract description, where is, and all sales are final.  All prices are in U.S. dollars.
By using this service, and with regard to Producers Cattle Auction, the parties stipulate that this agreement shall be governed by and interpreted under the laws of the State of Alabama, excluding those laws pertaining to conflicts of law.  This service is performable in, and the exclusive venue for any actions brought with respect hereto shall lie in, Mobile County, Alabama.
Unless otherwise explicitly stated, Producers Cattle Auction provides this site as a facility for vendors to sell their products. Use of the site is entirely at the User's own risk. Producers Cattle Auction shall not be liable for any rights and obligations arising out of any auction or sale. All information and products are provided "AS IS" and PRODUCERS  CATTLE  AUCTION   DISCLAIMS  ALL WARRANTIES,  WHETHER  EXPRESSED  OR  IMPLIED,  INCLUDING,  WITHOUT  LIMITATION,  WARRANTIES  OF  TITLE  OR  IMPLIED  WARRANTIES  OF MERCHANTABILITY  OR  FITNESS  FOR  A  PARTICULAR  USE  OR  PURPOSE. While Producers Cattle Auction has endeavored to provide information that is considered to be complete and correct, Producers Cattle Auction is not responsible for the representations made by sellers with regard to the health, pedigree, type, breed or any stated condition of the goods available for auction. Producers Cattle Auction cannot guarantee that sellers will complete the sale of an item or that buyers will complete the purchase of an item. It is solely the User's responsibility to evaluate the accuracy and completeness of all information and the quality and merchantability of all products offered through this facility. The individual participants take all risk.
TECHNICAL REQUIREMENTS:
Your screen size or desktop area should be set to 1024 x768 or higher pixels for the easiest viewing of the Bidder's Screen.  It is recommended that to take part in the online auctions that you use Mozilla Firefox 1.5 or later or Internet Explorer 6.0 or later. The browser must be configured to accept cookies (This setting is enabled by default. If you haven't changed this setting under the web browser's references, you shouldn't have anything to worry about).
Producers Cattle Auction, LLC (PCA) Terms of Sale
SLIDING WEIGHT SCALE
Estimated weights are the basis for contract prices on cattle. Cattle are sold on a sliding scale, on the top side of the base weight.
Example - calves with an estimated base weight of 500 lbs sell for $150.00. At delivery, if the calves weigh up to 500 lbs average, the price remains the same. If they weigh 501 lbs, on a $.10 slide, the adjusted price will be $149.90, at 510 lbs the adjusted price will be $149.00, and so forth, up to 35 lbs above the estimated base weight.
Seller agrees that if the cattle deliver 36 lbs or more above the estimated base weight, the cattle will slide an additional $.02.
Seller further agrees that if the cattle deliver more than 50 lbs above the estimated base weight, PCA will adjust the price based on the market value of the cattle at delivery, for this error.
$1.00 FAIR SLIDE
Example - calves with an estimated base weight of 500 lbs sell for $200.00 cwt. The cost of the calf in this example would be 500 lbs X $200.00 cwt for a cost of $1,000.00 per head. At delivery, if the calves weigh up to 500 lbs average, the price remains the same. If the calves weigh over the average, I. E. 520 lbs., the cost will increase $1.00 per pound on the pounds over the base weight. (In this example 20 lbs. X $1.00 = $20.00 per head) for a total cost of $1020.00 per head.
PART PAYMENT
Buyer acceptance of sale price and terms of this sale will be consummated with a part pay of $40.00 per head, payable by the following business day after the sale, by wire transfer or overnight check.
FULL PAYMENT
The seller will receive payment from PCA's custodial account for shippers proceeds at delivery. Full payment from the buyer will be due delivery day by wire transfer or check sent by overnight mail. In the event of multiple shipment, payment will be required each day.
TRUCK LOAD LOTS
All cattle contracted will be sold in truck load lots unless otherwise stated. The head count stated in the contract will be adjusted to fit the trucks in order to keep the weight at contract specifications. If the cattle are heavier or lighter than estimated, the seller will adjust the head count up or down to fit total represented weight in the contract. Seller is obligated to deliver headcount specified in the contract. Failure to do so will result in a freight adjustment made by the seller based on the difference between contracted pay weight and actual pay weight. Seller is responsible for freight adjustment for weight under 10% of the estimated weight stated in the contract after headcount obligation has been met (not to exceed 50,000 pounds gross weight per truck). PCA reserves the right to make an additional adjustment, charging the seller and compensating the buyer, for loss of value for number of cattle short of contracted headcount.
TRANSFER OF TITLE
Seller warrants to PCA and the buyer that seller has good and marketable title to the livestock sold and that the livestock will be delivered free from all security interests, liens or encumbrances. If said livestock are subject to a lien, security interest or chattel mortgage in favor of the party stated in the contract, this lien, security interest or encumbrance shall be satisfied by seller prior to or at delivery. Seller agrees to defend title to the livestock, indemnify and hold PCA and buyer harmless from any and all loss or damage on account of any liens, encumbrances and other defects in the title. There are no warranties expressed or implied beyond what is expressly set forth in this contract. A delay in payment by buyer is not to be considered an extension of credit by PCA.
LIEN OF PRODUCERS CATTLE AUCTION, LLC
PCA shall have a lien for all expenses, commissions, and outlays of every sort, including legal expenses and counsel fees, and for all liabilities that shall be made or incurred by seller in connection with the consignment. As security for advances made by PCA, and for the commissions and expenses of PCA, PCA shall have a general lien on all of the contracted cattle and all of the proceeds of the sale, including accounts, promissory notes, drafts and any other evidence of indebtedness arising out of any sale by PCA, on behalf of the seller. Buyer accepts and hereby agrees title to all contracted cattle remains the property of PCA, and that the contracted cattle will not be resold or reassigned to any other party, until PCA receives full payment from the buyer.
RISK OF LOSS
The seller will be liable for loss of the cattle until they are loaded onto buyer's trucks. The buyer assumes all risk of loss for the cattle after they are loaded on buyer's trucks.
BEEF INDUSTRY COUNCIL
PCA will act as agent for the Beef Industry Council and collect the mandatory $1.00 per head check off. Seller agrees to have this fee deducted from proceeds of the sale.
INCIDENTAL EXPENSES
Seller agrees to pay all incidental expenses such as yardage, brand inspection, health papers and / or weighing charges, and calf-hood vaccination or S-branding of heifers unless otherwise stated in contract.
IN CASE OF BID DISPUTE
If any dispute arises between two or more bidders, PCA reserves the right to immediately put the lot up for sale again and resell to the highest bidder. The decision of PCA shall be final and absolute. All sale day information & changes announced will take precedence over any material printed prior to the sale.
DELIVERY
PCA will deliver only to the original buyer. This contract is not assignable. The agent representing PCA shall have the right at delivery, to sort and reject any cattle that are not in good, strong, and healthy shipping condition. Unmerchantable cattle include but are not limited to crippled, lame, deformed, bulls, stags, lump jaw, bad backs, locos, bad eyed, non performers, unhealthy cattle and shorts. Any cattle added to the cattle described in the contract after the date of the auction without the approval of the buyer may not be accepted by the buyer.
DELIVERY DATES
If uncontrollable circumstances such as weather, availability of trucks, death, etc. requires seller or buyer to request minor changes to the delivery dates outside of the contract delivery date range, PCA has the authority to make adjustments to accommodate the particular circumstance.
BUYER DEFAULT
Default shall exist if full and final payment is not received within one day from the date buyer takes possession of the livestock described herein, or if the check given in payment for the livestock is dishonored, or upon the death, bankruptcy, or insolvency of the buyer or upon the sale of said livestock without PCA's written permission. Upon default, PCA, with or without notice, may exercise any and all rights accorded to it by law and this contract, including, but not limited to the following: If buyer defaults, he will forfeit his $40.00 per head part payment. The defaulting party shall be liable for actual and incidental damages as are determined by the Uniform Commercial Code, plus court costs and attorney's fees, as well as to any available equitable relief.
SELLER DEFAULT
Upon sellers failure for any reason whatsoever to deliver to buyer all cattle purchased, seller shall promptly refund to PCA the part payment advanced on such undelivered cattle, plus commission. PCA will refund to the Buyer the total amount of the part payment advanced by the buyer. The defaulting party shall be liable for actual and incidental damages as are permitted by the Uniform Commercial Code, plus court costs and attorney's fees, as well as to any available equitable relief.
BUYERS TRUCKS
The agent representing PCA shall have the right to make any necessary adjustments concerning shrink at delivery if buyer's trucks are not on time and cause any unnecessary shrinkage to sellers cattle. The buyer assumes responsibility and liability for loss for the cattle upon loading on buyer's trucks. Seller agrees to provide the labor to load the cattle on the trucks.
OWNER WILL SUPPLY SOURCE AND AGE INFORMATION
This statement refers to cattle that are uniquely identified and where the seller agrees to supply information pertinent to the origin and the date of 1st calf born in the group. Buyer will be responsible for any and all costs associated with enrolling these cattle into any QSA or PVP.
CATTLE THAT ARE PASSED OVER
Cattle that are passed over can be re-listed on a future sale at no extra charge. Seller will be charged a $2.00 per head fee for cattle passed over and not resold thru PCA.
CONTRACTS
Producers Cattle Auction, LLC reserves the right to sign the Livestock Contract on behalf of the Buyers and Sellers.